It's no secret that streaming has become the new norm in entertainment. With the rise of streaming services such as Netflix, Hulu, and Disney+, more and more people are opting to cut the cord and embrace the streaming revolution. But with so many streaming options available, choosing the right device to stream on can be overwhelming. Cue the Fire stick 4K. This small but powerful streaming device has taken the market by storm and has become a favorite among streaming viewers. In this article, we'll dive into what makes the Firestick so popular and why it might just be the perfect device for all your streaming needs.
4K Ultra HD Picture Quality
One of the most significant selling points of the Fire TV stick 4K is its ability to deliver stunning 4K Ultra HD picture quality. With support for up to 2160p resolution and High Dynamic Range (HDR), the device gives you the best possible visual experience. The colors are vibrant, and the details are crisp, making for an immersive viewing experience. This feature especially comes in handy for streaming services like Netflix and Amazon Prime, which offer a vast library of 4K content.
Alexa Voice Remote
Another feature that makes the Fire stick 4K stand out is its Alexa Voice Remote. With the remote, you can search for movies and TV shows or control playback using simple voice commands. This hands-free experience allows you to easily navigate through the menus without the need to type in searches manually. Additionally, the remote also has volume and power controls, making it a one-stop-shop for all your streaming needs.
Affordable Pricing
Priced at just $49.99, the Fire TV Stick offers an affordable streaming solution that won't break the bank. Compared to other streaming devices like Apple TV or Roku, which can cost upwards of $100, the Firestick 4K offers a reasonable price point with all the features you'd need for an optimal streaming experience.
Vast App Store
Fire stick 4K also boasts a vast app store with thousands of options, including popular streaming services, games, and other entertainment applications. This means that no matter what you're interested in, it is likely to have an app for it. The device also offers the option to sideload additional apps that may not be listed in the app store, giving you even more options for content.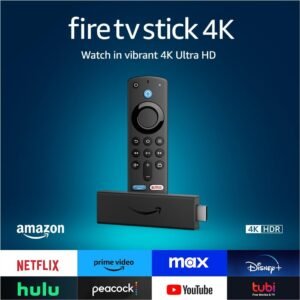 Easy Setup
Finally, one of the most significant advantages of the 4K is its easy setup process. The device plugs directly into an HDMI port on your TV and connects to your Wi-Fi network, so there's no need for complicated wires or configurations. Once you've connected the device, you're pretty much good to go.
Our Recommendation
All in all, the Amazon Fire Stick 4K has become popular among streaming viewers because it offers a one-stop-shop for all your streaming needs. The device's 4K picture quality, Alexa Voice Remote, affordable pricing, vast app store, and easy setup make it an ideal streaming solution for anyone looking to cut the cord and embrace the streaming revolution. If you're in the market for a streaming device, the Fire TV Stick 4K is undoubtedly worth considering.